Urbana attorney remembered as a 'nationwide treasure'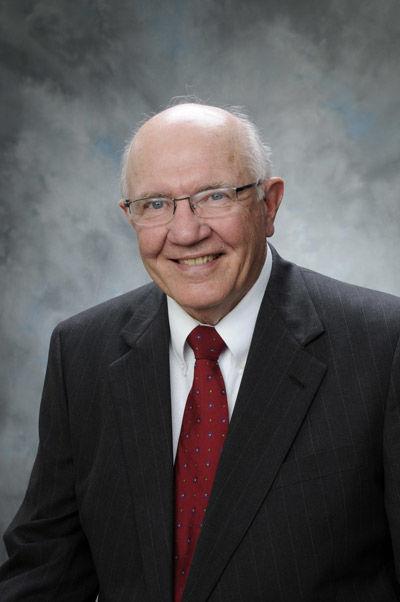 URBANA — An Urbana attorney who devoted his career to bettering his profession is being remembered for that commitment.
Richard "Dick" Thies, 89, of Urbana died early Saturday of cancer.
"He was a lawyer's lawyer. He was a consummate statesman, one of the national leaders of the private bar, particularly the American Bar Association and the Illinois State Bar Association," said David L. Brown of Des Moines, Iowa, of his longtime friend and mentor.
"He wasn't just a treasure of central Illinois. He was a national treasure," Brown said.
Mr. Thies died surrounded by his wife of almost 67 years, Marilyn Webber Thies, his five children and many grandchildren and great-grandchildren.
A resident of Clark-Lindsey Village, he spent the last few weeks of his life at the Urbana home of his son, John Thies, so that his large, tight-knit family could visit freely during the pandemic.
John Thies and his older brother, David Thies, are third-generation members of the Urbana law firm of Webber & Thies, founded by their maternal grandfather, Charles Webber. He was a Champaign County judge and the developer of Lincoln Square in Urbana, where the firm has had its offices for decades.
Dick and John Thies are the only father-son combination to have both served as presidents of the Illinois State Bar Association.
"He was a general-practice lawyer. He did litigation and transactional work," said David Thies. "He would want to be remembered that way. He was passionate about keeping the lawyer independent and not influenced by the outside kinds of things that can take away your sense of duty to the client."
Among other causes, the lifelong Democrat who ran unsuccessfully for state Senate in the 1960s was a staunch advocate for the merit selection of judges.
Born in Scotts Bluff, Neb., Mr. Thies followed his musical mother, a piano teacher, around the country until she met Mr. Thies' stepfather, whose work in the grain business brought the family to Gibson City. He graduated from high school there then entered the University of Illinois. He obtained his undergraduate degree in history, intending to teach the subject in high school, said son David.
He was working as a cashier at the UI when he met his future wife, an Urbana native whose father's profession influenced Mr. Thies to attend law school at the UI.
Becoming a lawyer in 1955, he joined the firm that has also counted among its staff two of his brothers-in-law, the late Craig Webber and Carl Webber. Grandson Daniel Thies, son of David Thies, recently became the fourth-generation member of the business.
"There are few bar leaders in Illinois that have his legacy," said John Thies. "He was very active, serving in every high office, including president in 1986-1987. He defined being a lawyer as having a commitment to the profession through the organized bar."
"(He believed) you have certain rights as a member of the bar, but you have major responsibilities, because you are a service profession. He took that position in all kinds of meetings where people talk about the business model," added Brown.
Mr. Thies juggled the demands of ISBA and the ABA work while representing clients, raising five children, and being involved in countless community organizations, including the UI Foundation, the C-U Symphony, Champaign-Urbana Kiwanis and the Urbana park and school boards, just to name a few.
"I never had any difficulty identifying who my role model should be for bar leadership," said John Thies, ISBA president in 2012-2013. "I witnessed the extraordinary things he accomplished as bar president, community leader and someone who is totally committed to his family and his faith."
Dick and Marilyn Thies were active members of First Presbyterian Church in Urbana, where he put his love of singing to use in the choir.
"My father was very musical," said David Thies, a classically trained musician who performs jazz and popular music on piano when he's not working as a lawyer.
He recalled fondly his dad singing "As Time Goes By" at his cabaret performances.
Professionally, the versatile Mr. Thies represented partnerships and corporations, not-for-profit and tax-exempt organizations and trusts. He negotiated labor-management contracts, handled grievance hearings and employment discrimination cases.
He represented media organizations in purchases and sales, slander and libel cases, and was an advocate for cameras in the courtroom. He also practiced environmental law.
He was the recipient of numerous prestigious professional awards, including the Award of Merit from the ISBA, the Lincoln the Lawyer from the Abraham Lincoln Association, and Pillar of the Bar from the Champaign County Bar Association.
John Gadau of Champaign recalled a time early in his legal career when he was in a hearing with the older, more experienced Mr. Thies and had made a procedural misstep.
"Dick waited after the hearing and said, 'If you're going to be doing this again, the next time, this is the way to do this.' I was smart enough to know I didn't know what I was doing. It was good to have somebody who could help you out and you could become their friend," said Gadau.
Mr. Thies had no shortage of friends from many different areas of his life, including aviation, which he took up in his 50s. David Thies said their mother preferred that all the children be grown before her husband got his pilot's license for fun.
"He wanted to be in the Air Force and fly, but in the 1950s, you had to have 20/20 vision, and his eyes were bad. Instead of a pilot, he became a lawyer in the Air Force," said David Thies. Mr. Thies served in the Judge Advocate General's Department from 1956 to 1958.
The owner of a Piper Cherokee, Mr. Thies flew for about 30 years.
Coincidentally, Mr. Thies' fellow general aviation pilot and good friend, Kyle Robeson, also died Saturday. Both belonged to the B&C Club, a group that's been around for decades. That's "beer and culture," said David Thies, a junior member at age 65.
A mix of interesting men from different political persuasions and professions, the club meets about once a month and "sometimes goes late into the night arguing about things," said David Thies.
Friend Dick Ensrud is in the club.
"I liked everything about him," the retired Carle physician said of Mr. Thies. "He was one of the few Democrats I ever voted for. Does that say something about him?"
"In October 1979, my second daughter was having brain tumor surgery, and my wife and I were in a surgical waiting room, when, unannounced, Dick and Marilyn showed up and sat with us for hours. Her surgery was successful, and she went on to med school and is now a professor of medicine at the University of Minnesota," said Ensrud, who with Mr. Thies shares great pride in his offspring.
Besides his two lawyer sons, Dick Thies is also survived by daughter Nancy Thies Marshall of Salem, Ore., an accomplished gymnast who competed at the 1972 Olympics in Munich and later at the UI; daughter Susan Harrison, who recently moved back to Urbana after 30 years as a missionary in China; and Ann Peters, an executive with Nike who lives in Portland, Ore.
John Thies said besides his contributions to the legal profession, his father would want to be remembered for raising successful, contributing children.
"Along with my mother, they were the ideal parents for raising a bunch of kids that did a lot of different activities. They loved us and taught us how to roll with the punches and how to put things into perspective, as we are doing right now with the loss of our dad."